The BRIXEN WATER LIGHT FESTIVAL is hosted by BRIXEN CULTUR and produced by BRIXEN TOURISM. The main venue of the festival of light is the old city, and the two satellite venues are the Franzensfeste and the Neustift Monastery.
The WATER LIGHT LAB takes place at the Neustift Monastery. Light- and light-based media objects and installations by international artists are on display. The WATER LIGHT LAB provides an insight into the diversity of artistic work with light since the 1960s. The artworks differ in their forms of expression, artistic concepts, and the topics they are concerned with. They all exemplify how artists shape research and development processes.
With contributions by Philipp Artus, Benjamin Bergmann, Debaditya Bhownik, Youngji Cho, Nazanin Fakoor, Sam Durant, Nathalie Gebert, Groll – Berndt – Seltmann, Angelika Höger, Hofmeister – Mushtrieva – Savelyeva, Bon Kim, Sangbong Lee, Jimi Dao Sheng Liu, Ken Matsubara, François Morellet, Mria Prosphora, Slava Romanov, Christine Sciulli, Tang – Yu, Kui Xu, Xenorama.
The WATER LIGHT LAB is curated by Bettina Pelz.
A selection of international artists presents artistic research and practice in contemporary art.
Angelika Hoeger. Artists' Studio. Photo Brian Mac Domhnaill (2)_1997x2000
Angelika Hoeger. Photo: Brian Mac Domhnaill.
For the site-specific intervention FLOW, Angelika Hoeger translates natural shaping processing as in crystalline, liquid, and gaseous states of water into artistic constructions made of straws of paper and plastic. With a multitude of modules, she forms a kind of fluid mesh that extends from the entrance hall to the second floor.

Ken Matsubara. INTERFERENCE Tunis 2018. Photo Jennifer Braun (1)_1994x2000
Ken Mastubara. INTERFERENCE Tunis 2018. Photo: Jennifer Braun.
For the installation MOON BOWL, Ken Matsubara uses traditional household vessels as containers for digital animations. On view are digital animations of black-and-white photographs of selected objects that break in endless repetitions, disappear into the darkness, and reappear on the surface.
Christine Sciulli. CENTER FOR INTERNATIONAL LIGHT ART Unna 2022-2023. Photo Christine Sciulli (4)
Christine Sciulli. CILA Unna 2022-2023. Photo: Christine Sciulli.
The textile sculpture consists of finely gridded textile, loosely laid in some places, and densely layered in others. In the interplay of animated and projected graphics, optical interferences are created. They render visible a variety of degrees of opacities and generate an ethereal aesthetic emerges.
Groll Berndt Seltmann. GOLDSTUECKE Gelsenkirchen 2022. Foto Jennifer Braun (15)
Groll – Berndt – Seltmann. GOLDSTUECKE Gelsenkirchen 2022. Photo: Jennifer Braun.
Natural networks and energy systems are the visual material of the artists for TENTAKULUM. Their raw material includes micro- and macroscopic images of flora and fauna and artistic drawings and graphics. They become part of an associative flow of images about ecological habitats and address humanity's accountability to nature.
Nazanin Fakoor. Photo Nazanin Fakoor. (8)
Nazanin Fakoor. Photo: Nazanin Fakoor.
Just as the interplay of light refraction, diffraction, and reflection in nature creates a rainbow, Nazanin Fakoor generates optical interference with projections on mirror films. The moving screens display color-intensive video animations and generate colored reflections that meander through the space.
Philipp Artus. LICHTSTROM Ingolstadt 2021. Photo Foto Jennifer Braun (6)_1998x2000
Philipp Artus. LICHTSTROM Ingolstadt 2021. Photo: Jennifer Braun.
FLORA is a digital graphic instrument that draws plant-like shapes. Visitors are invited to experiment with it. The animation in FLORA is spawned by superimposed sine waves moving through a series of lines. This wave principle often occurs in nature when energy is transmitted through a medium such as water or air. Philipp Artus has coded it into an algorithmic system that implements the visitor's instructions in real-time.
YOUNG MASTERS Brixen 2023
Students of the University of the Arts Bremen present new artwork from the studies and the studios.
Bon Kim. Photo Bon Kim (2)
Bon Kim. Photo: Bon Kim.
Bon Kim built an installation that allows the audience to generate electricity with their body heat. She uses a thermoelectric effect to convert temperature differences to an electric voltage. While sitting on the manipulated chair, electricity starts to flow and feed a halogen lamp that provides light for the eco habitat of a tree root.
Hofmeister - Mushtrieva - Savelyeva. Photo Dorothea Tuch
Hofmeister – Mushtrieva – Savelyeva. Photo: Dorothea Tuch.
In Russian "debri" means impenetrable, dense forests, and is used metaphorically for complex and unexplored things. The interactive installation visualizes the problem of cosmic pollution. The visitor walking across the projection field will attract useless space objects along his path.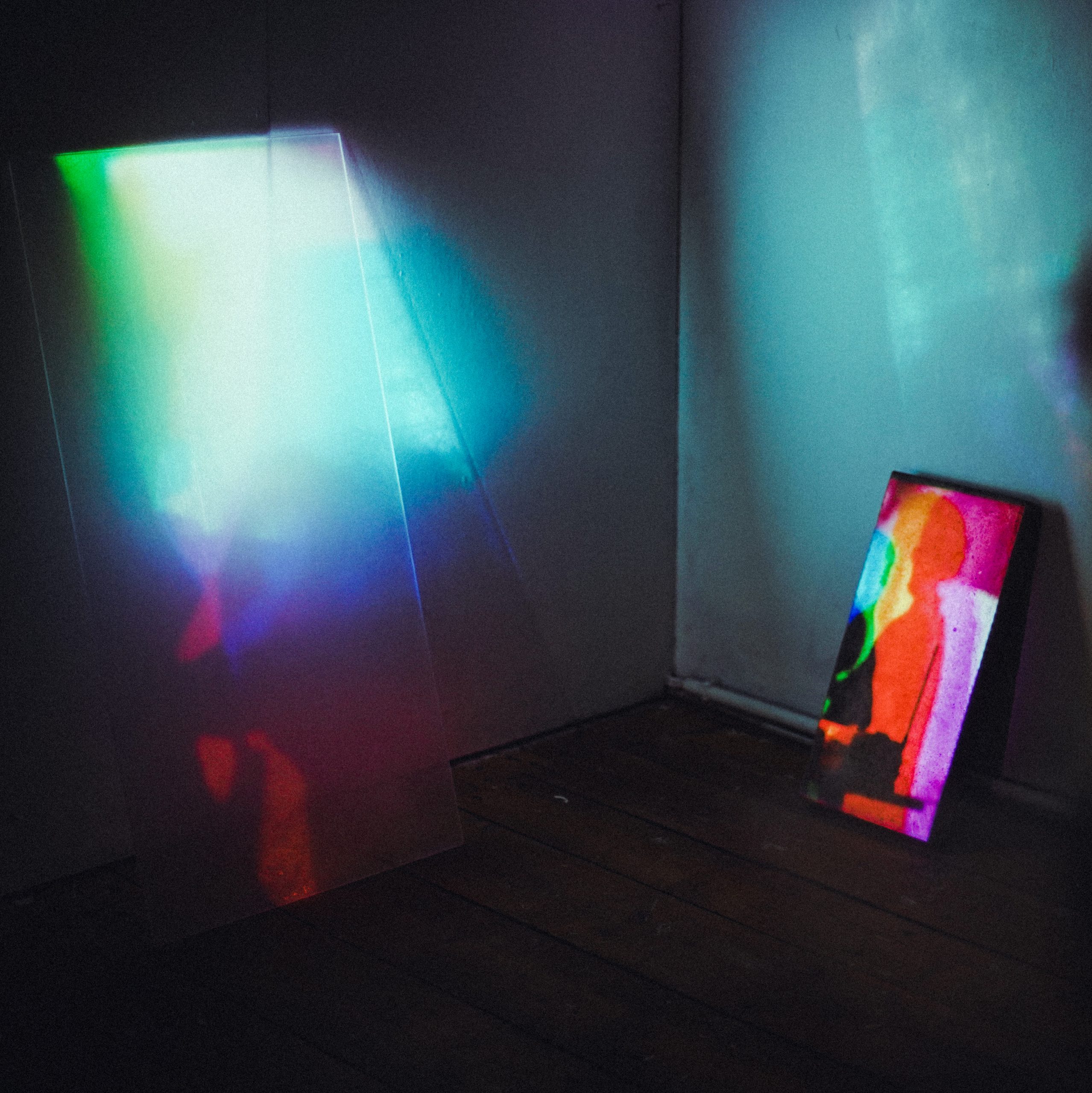 Jimi Liu. Photo Jimi Liu (4)
Jimi Dao Sheng Liu. Photo: Jimi Dao Sheng Liu.
What looks like an old-fashion radio, is an artistic tool to tune into the past of a space. Via the prototype, visitors can control the time span to go back in time and the room will be filled with audiovisual traces from the recent past.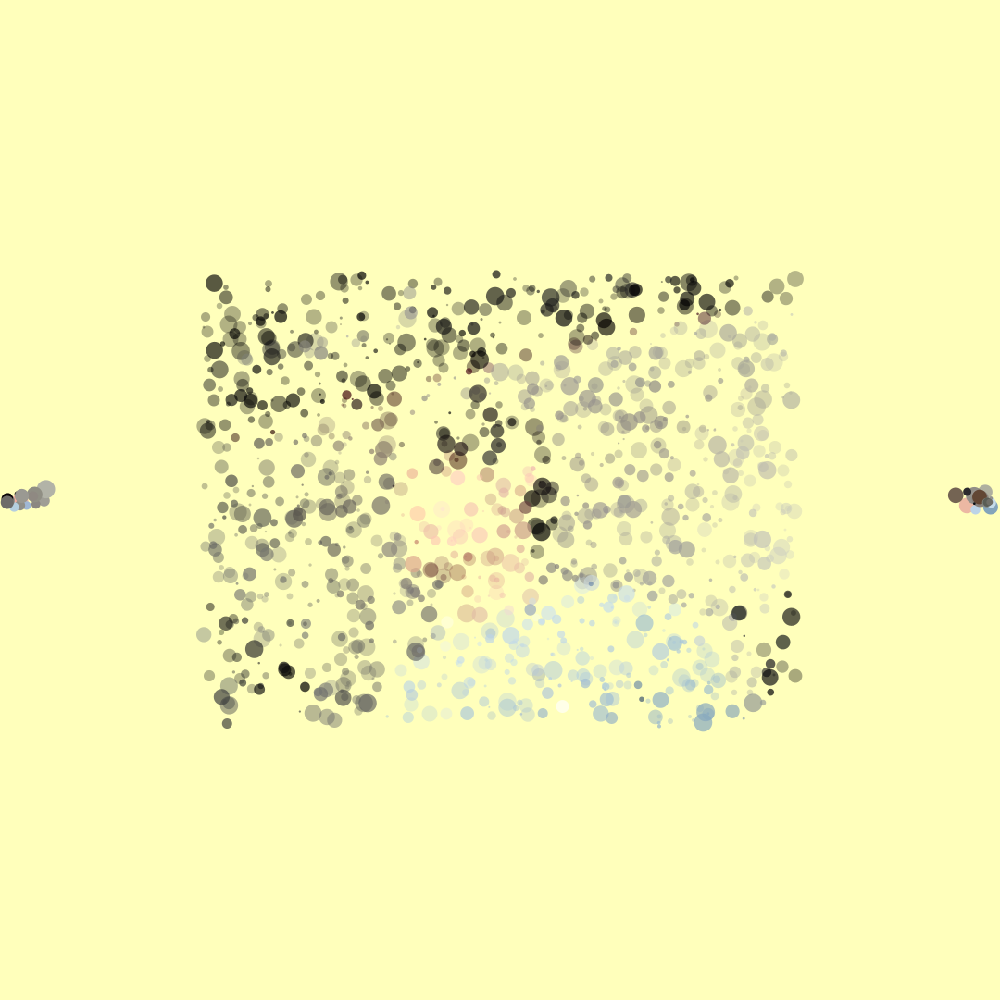 Kui Xu. Photo: Kui Xu.
"Fullfill" is an interactive art project that explores the concept of "particle systems" in dynamic creative programming through audio visualization. Inspired by the idea that all matter is formed by particles, this project brings this concept to life through the fusion of art and technology. Visitors exploring the responsive system can experience the link between sound, movement, and visual expression.
Mria Prosphora. Photo Videostill (5)
Mria Prosphora. Photo: Video Still.
Cинтон (en: SYNTHON) is a contemporary interpretation to create soundscapes based on compositions of geometric figures. The soundtracks are scanned by a light-sensitive setup reading the graphical notation, and the photocurrent follows all changes in light intensity.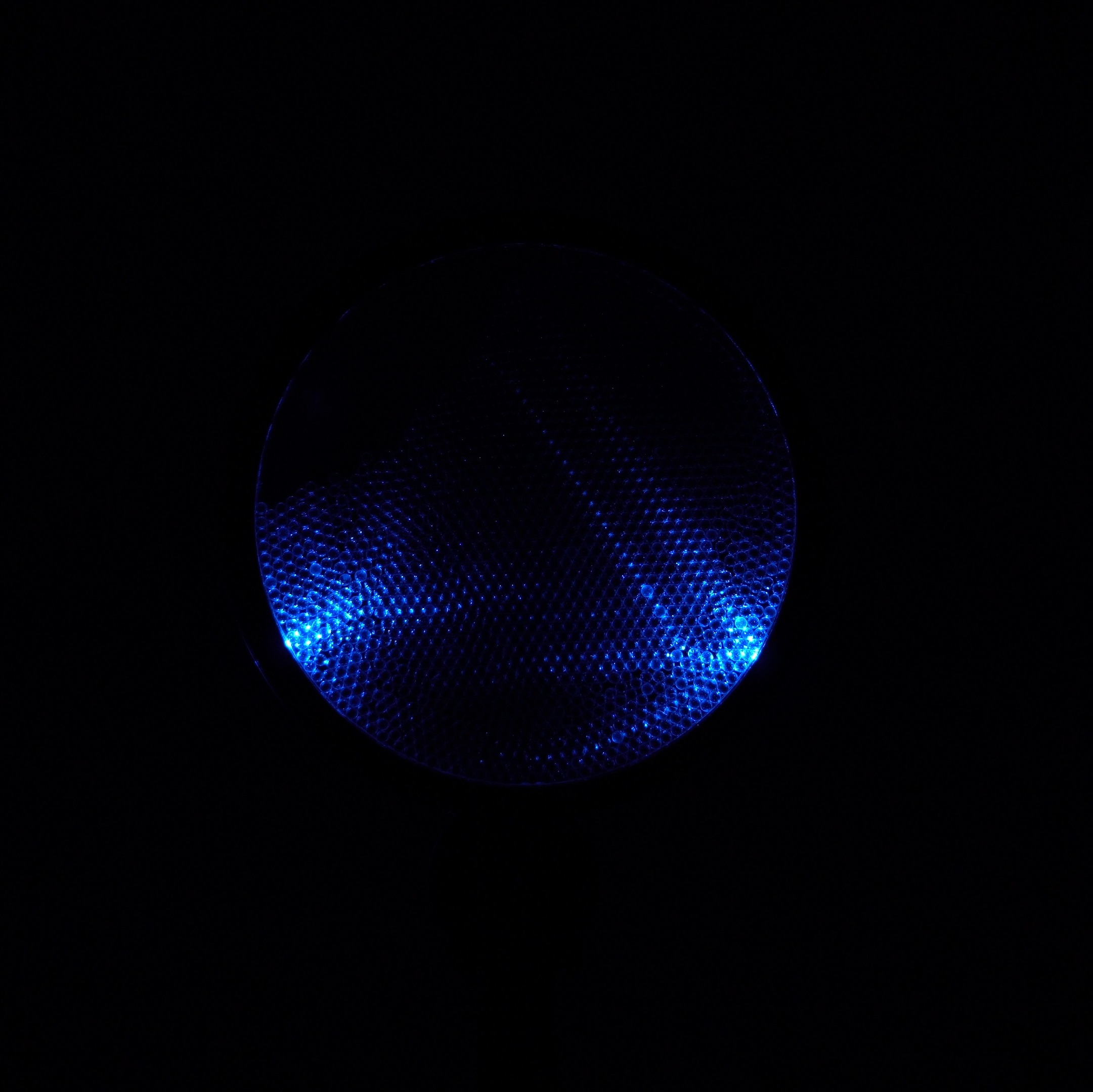 Nathalie Gebert. Photo Nathalie Gebert (5)
Nathalie Gebert. Photo: Nathalie Gebert.
The work consists of a rotating glass disc, partly filled with small glass spheres, illuminated by two led-based light sources. In the interaction of the rotating disc and the small glass spheres following the movement, the blue light travels through the transparent materials in various ways.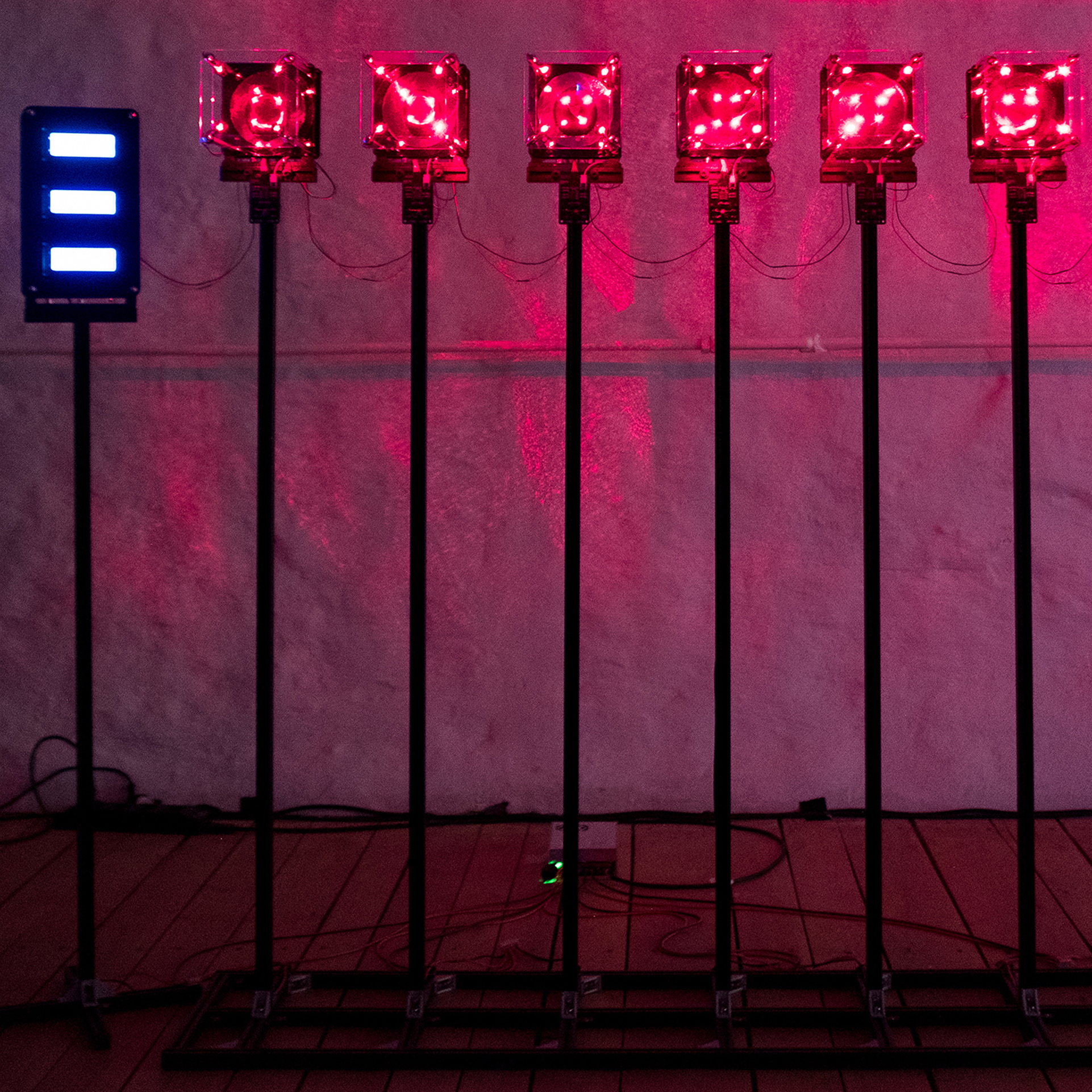 Sangbong Lee. Photo Sangbong Lee (3)
Sangbong Lee. Photo: Sangbong Lee.
In this installation, content in the form of text is introduced to a system that visualizes digital transformation processing instead of visual representation of the content. The title refers to the text material used that talks about the pineal gland, which is a tiny organ in the center of the brain.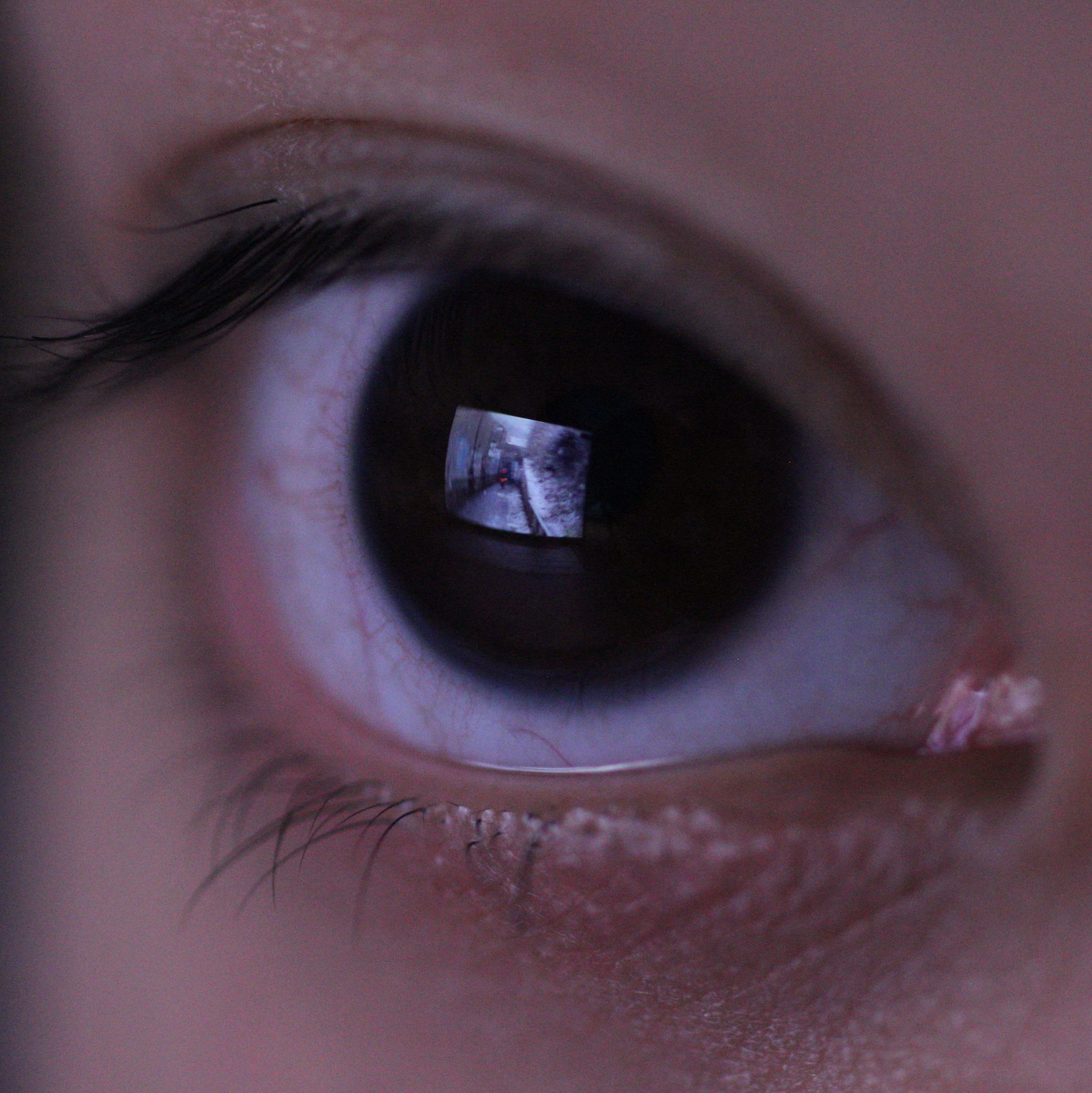 Tang - Yu. Photo Videostill
Tang – Yu. Photo: Video Still.
The video essay is an envelope of artistic research on vision, encompassing the natural relationship of two eyes, pupil dilation, and constriction according to light intensity, the reflectiveness of the cornea, sensitivity of vision, and natural reflexes resulting in blinking.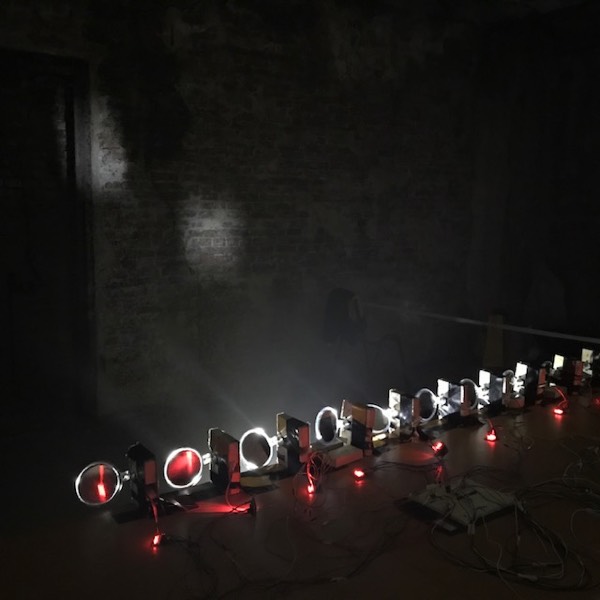 Youngji Cho. Photo Youngji Cho (13)
Youngji Choi. Photo: Youngji Choi.
Youngji Cho collected footage of circular forms and structures from her daily life and random internet sources and used them as the raw material for a digitally animated collage to be projected onto a rotating textile screen.
TEAM
BRIXEN CULTUR Project Coordination: Matthias Mair
Artists' Coordination: Sarah-Lea Langner
FEATURED IMAGE
Angelika Hoeger: FLOW (from the studio)
Photo: Brian Mac Domhnaill.